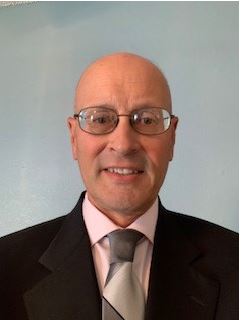 The International Fluid Power Society (IFPS) is pleased to announce Rocky Phoenix, CFPMMH was elected 2021 president and chair during the IFPS annual meeting.  Mr. Phoenix is the 61st president of the IFPS and will take office along with the 2021 Board of Directors in January 2021.
Rocky served as the IFPS Membership Vice-President and is a member of the Fluid Power Hall of Fame selection committee. He has been involved in the fluid power industry for the past 15 years with Open Loop Energy, Winnemucca, Nevada working in the mining industry. Rocky is a graduate of North Seattle College earning an Associate Degree in Industrial Drafting and Design. His previous work experience includes many years in the motorcycle and automotive industries and he is an active Private Pilot.
"I am both excited and honored to be elected President by the IFPS membership for 2021," said Rocky Phoenix. "I anticipate a progressive and exciting time ahead for our membership even in this unique and trying time in our history! I look forward to the progress we will make going forward working with the most knowledgeable and passionate membership I know of in any industry."
The following officers were confirmed at the meeting:
First Vice President - Denis Poirier, Jr., CFPAI/AJPP, CFPHS, CFPIHM, CFPCC - Eaton Corporation
Immediate Past President – Jeff Kenney, CFPIHM, CFPMHM, CFPMHT
Treasurer - Jeff Hodges, CFPAI/AJPP, CFPMHM - Altec Industries, Inc.
Vice President Certification – James O'Halek, CFPAI/AJPP, CFPMIP, CMPMM - The Boeing Company
Vice President Marketing and Public Relations - Scott Sardina, PE, CFPAI, CFPHS - Waterclock Engineering
Vice President Education - Randy Bobbitt, CFPAI, CFPHS - Danfoss Power Solutions
Vice President Membership - John Bibaeff, PE, CFPE, CFPAI, CFPS
IFPS welcomes the following new Directors-At-Large:
Jon Rhodes, CFPAI, CFPS, CFPECS - CFC Industrial Training
Steve Bogush, CFPAI/AJPP, CFPHS, CFPIHM – Poclain Hydraulics
The following Directors-at-Large were re-confirmed during the annual meeting:
Stephen Blazer, CFPE, CFPS, CFPMHM, CFPIHT, CFPMHT - Altec Industries, Inc.
Chauntelle Baughman, CFPHS - OneHydraulics, Inc.
Cary Boozer, PE, CFPE - Motion Industries, Inc.
Lisa DeBenedetto, CFPS - GS Global Resources
Daniel Fernandes, CFPECS, CFPS - Sun Hydraulics
Brandon Gustafson, PE, CFPE, CFPS, CFPIHT, CFPMHM - Graco, Inc.
Garrett Hoisington, CFPAI/AJPP, CFPS, CFPMHM - Open Loop Energy
Brian Kenoyer, CFPHS - Five Landis Corp.
Mohaned Shahin, CFPS - Parker Hannifin
Randy Smith, CFPHS - Northrop Grumman Corp.
Donna Pollander, ACA, Executive Director (Ex-Officio)
Honorary (Ex-Officio) Directors-at-Large were also re-confirmed during the annual meeting:
Elizabeth Rehfus, CFPE, CFPS
Paul Prass, Fluid Power Journal
Robert Sheaf, CFPAI/AJPP, CFC Industrial Training
A special thanks to outgoing past president Timothy White, CFPAI/AJPP, CFPS, CFPECS, CFPMIH, CFPMMH, CFPMIP, CFPMT, CFPMM - The Boeing Company, and outgoing vice president of education Kenneth Dulinski, CFPAI/AJPP, CFPECS, CFPHS, CFPMIH, CFMMH, CFPMT - Macomb Community College, as they complete their tenures on the IFPS Board. Their many years of service, commitment, and expertise helped steer the Society in its mission.